itch beta
A downloadable tool for Windows, macOS, and Linux
kitch is the beta version of the itch.io desktop app.
After years (okay, one year) of development, the new itch.io desktop app is in open beta.
Features
Starts up faster, interface is more reactive
Uses less RAM, less CPU, less disk
Compatible with more games
Tab-less, multi-window design
New installer, self-updates on Windows, macOS & Linux
Maybe most important of all, it's infinitely easier for us to iterate on.
Why a beta?
We've rewritten core parts of the app a bunch of times since the last stable version.
We want to make sure that the new version runs smoothly for you!
If you mostly play games - do just that! Use the Send feedback menu to send anonymous feedback. We'll translate that into GitHub issues and fix them as soon as possible.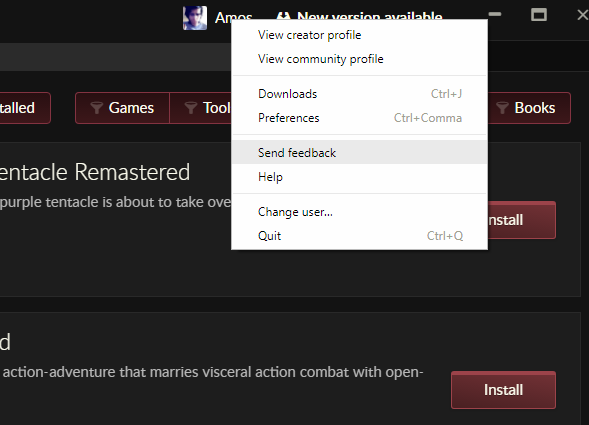 If you mostly develop games - try your own stuff! Is it broke in the beta when it used to work in stable? Report that! Was it broken in stable and now works in the beta? You better report that. Did it just keep working flawlessly? Oh you know I want a report about that.

Cool! How about...
...nah, new features will have to wait.
This is a huge release, with a whopping 2183 commits at the time of this writing.
We just want to ship this one, make sure it's solid / that there's no huge regressions, and then we can all have a little feature party.
Now go forth and test!
If you're feeling extra generous, you can record yourself testing the app (maybe with OBS Studio), upload it (maybe as an unlisted YouTube video), and send it to me (maybe via a twitter DM)
Thanks a ton for testing 💖

Install instructions
For the Linux installer
From a terminal, just chmod +x kitch-setup && ./kitch-setup.
From a GUI, open the properties for the file and, in Permissions, check "Allow this file to run as a program", then double-click on kitch-setup.
You will need GTK3 installed.